Samsung Galaxy S22 Ultra Smartphone
Galaxy S meets Galaxy Note: Introducing the Samsung Galaxy S22 Ultra with built-in S Pen for efficient multitasking and AI-powered 40 MP selfie and 108 MP front cameras for brilliant shots day and night.
from 1,068.00
Gross price: €1,302.96 incl. €234.96 VAT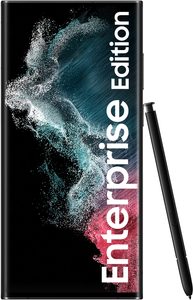 Manufacturer no.: SM-S908BZKDEEE Version: Italy
Bechtle no.: 4617343-02
Display size: 17.2 cm (6.8"), Internal memory: 128 GB, Number of SIM cards: 2 (Dual SIM), Rear camera: Quad, Operating system: Android
This product is also available under your %link% call-off order %number% %/link% .
This product is also available under %link% multiple call-off orders %/link% .